AS THE SITUATION IN SYRIA CONTINUES TO WORSEN FOR PRESIDENT ASSAD, THE POSSIBILITY OF SARIN GAS BEING USED AGAINST THE REBELS INCREASES. MAY UNDERSTAND OF SARIN IS THAT IT'S A BINARY GAS AND TWO OR MORE ELEMENTS MUST BE MIXED BEFORE IT IS USED AND ONCE MIXED THE GAS HAS A SHORT SHELF LIFE IN THE WARHEAD. IF THEY ARE MIXING THEM AS HAD BEEN REPORTED THEN ITS A FAIR ASSUMPTION THEY WILL USE THEM IN THE NEAR FUTURE UNLESS SOMETHING CHANGES ON THE GROUND OR IN THE INTERNATIONAL ARENA.
The Daley Gator
The White House issued a stark warning that it feared President Bashar al-Assad might be turning to his arsenal of chemical weapons as a report emerged claiming the regime has already begun mixing the chemicals to make deadly sarin gas.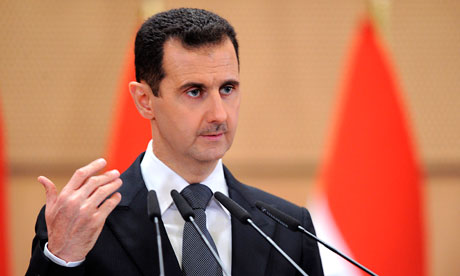 On a day of turmoil in which a high-ranking Assad spokesman defected, and the United Nations announced it was withdrawing all non-essential personnel in Syria, American defence officials confirmed that activity had been reported at the regime's known chemical sites, including movements of weapons components.
Although previous activity has been reported, it was seen then as the regime seeking to secure stocks against possible rebel attack.
This time, the White House spokesman, Jay Carney, went further. "We are concerned that an increasingly beleaguered regime may be considering the use of chemical weapons against the Syrian people," he said.
This evening, AFP news agency quoted an unnamed US official who claimed…
View original post 626 more words